Industrial laminated panel means panels in the standard width of 1,170 mm, within one order, without rabbets at the end of the panels.
At present we offer our partners panels with three kinds of surface. These are micro laid (MB1, MB2) and smooth surfaces (S). The table below contains their common features. 
| | | | |
| --- | --- | --- | --- |
| Sign | RMB | SMB | S |
| Thickness (v) | 60-200mm | 60-200mm | 60-200mm |
| Width | 1170mm | 1170mm | 1170mm |
| Length | 0-15m | 0-15m | 0-15m |
| Foam density | 43 kg/m3 | 43 kg/m3 | 43 kg/m3 |
Micro laid panels: recommended primarily for outdoor use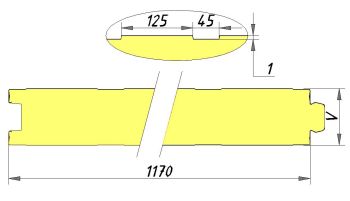 RMB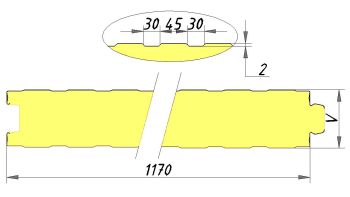 SMB
Smooth panels: recommended to the inner surface of the chambers in order to make cleaning easier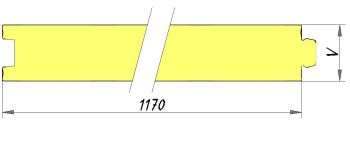 S
Possible armatures:
Galvanized steel sheet: It is applied in the outer surface of the standard roof panel and the floor panel.
Enamelled steel sheet: Available in many colours, the standard colour is RAL 9010. Most of our chambers are made from this sheet.
Stainless steel sheet: Applied in case of extra pressure.
The combination of the three types of materials can be ordered. The table below shows the often occurring realizations of armature with the typical fields of application. 
| | | |
| --- | --- | --- |
| Inner surface | Outer surface | Field of application |
| galvanized | galvanized | floor |
| varnished | galvanized | sidewall, roof |
| varnished | varnished | sidewall |
| stainless | galvanized | sidewall, roof |
| stainless | varnished | sidewall, roof |
| stainless | stainless | sidewall |